Youngest Daughter had a day off from work and offered to come over and help decorate the house for Christmas. (Yeah, I don't care for the decorating part of the holidays. It's not a bah humbug thing it's just that it's time away from knitting and sewing.)
I had a table full of ingredients that I'd bought to make the
Cranberry Orange Bread
recipe that I found in the December 2006 issue of Sunset Magazine. When Youngest Daughter saw the flour, sugar and dried cranberries she decided she'd rather bake than decorate.
Fine with me!! She started measuring and mixing while I grated orange rind and squeezed them for juice. (She pointed out that this was the first time we'd done Christmas baking where I was the Baker's support team which has traditionally been her role. She did a couple decades of helping Mom and Grandma bake for the Holidays. Time she took over I'd say!) I enjoyed the supporting role; and the whole day.
Here you have 9 mini and 1 full size loaves of Cranberry Orange Pecan Nut Bread and 5 mini loaves of Lemon Poppy Seed Bread. (I should have cleaned up before taking the picture; they're still on the racks we used for cooling and glazing.)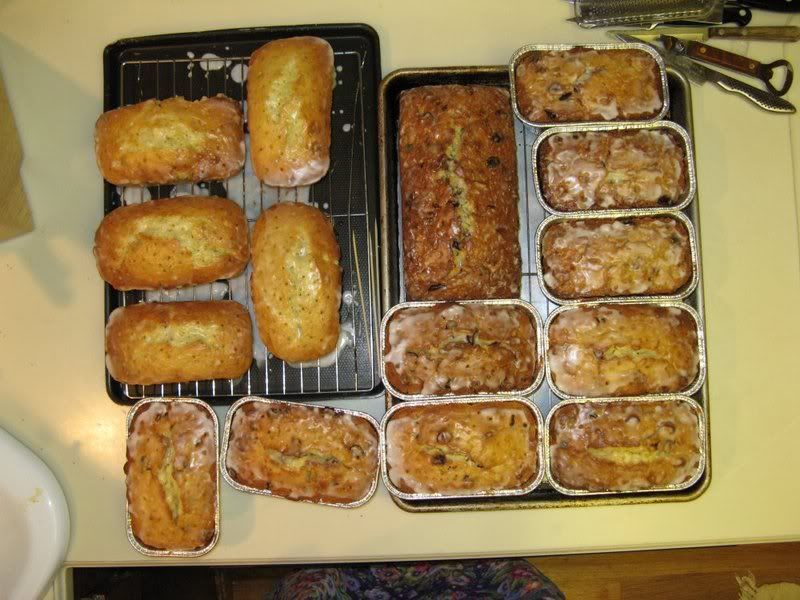 That wasn't enough cooking. I then made two trays of beef and cheese enchiladas. Here's the tray we baked; the other went into the freezer.
The day ended with the following score: 15 loaves of Nut Bread - two trays of enchiladas - and three dishwasher loads.
Oh, and we did get the living room decorated too.