I finished the Argosy scarf yesterday morning, started to block it and found I'd made a double square decrease about 1/4th from the beginning. "Stupid Cold" strikes again! It was such a glaring mistake I either had to throw the whole thing away or rip it back. So I left it to dry and then unraveled it last night. What a pain; you know where!
Saturday's mail brought two skeins of Fleece Artist Basic Merino Socks yarn from Little Knits. I selected the colorways: Hercules and Paris. Paris was so pretty that I had to cast on ASAP.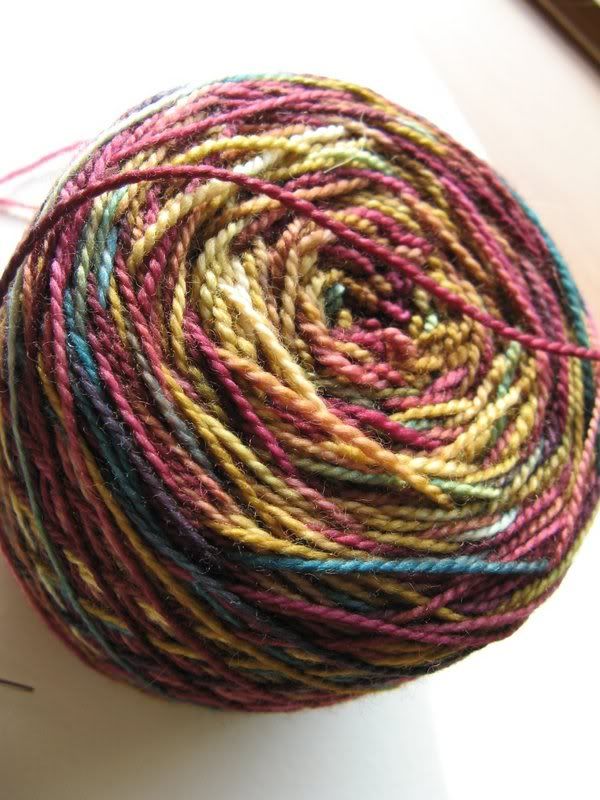 I started the cover sock pattern in the new book, Favorite Socks from Interweave press. Wavy Lace Socks by Evelyn A. Clark are an easy pattern/chart to follow. The yarn colors are probably too busy to show off the lace pattern best but I'm still very happy with the texture and color.



The surprise twist is that my usual Crystal Palace size 0 needles weren't pointy enough to pickup the K2Tog (Knit 2 stitches together) so I pulled out the Knit Pick Double Points I bought awhile ago. What a difference! I've never been a fan of metal needles; they fall out every time you touch your work and they make your wrists ache. These needles stay put yet slide easily through the stitches - that sounds impossible but it's true - and they give just enough that I had no wrist ache after several hours knitting. Plus those pointy points on the Knit Picks needles - I may never go back to bamboo!
Casserole dyeing has intrigued me for the past year. Everytime I've tried I've felted the roving. Gave it another try yesterday morning; the roving is still drying so I can't report on the felting. Even wet it does look a bit less felted than previous efforts.
This picture looks more like I'm baking than dyeing roving.