Last Sunday I had a wonderful day at the
Southern California Handweavers Guild's Festival
.
It was held in Torrance, CA, (if you don't know the area it's close to Los Angeles International Airport.)
I was disappointed in their "show", all I saw was a couple woven placemats and a huge chess set but to be fair I didn't stay for their Fashion Show which must have been the main event. There were two big rooms to their Market Place.
Lots of weaving yarn and supplies
Stacks of Silk that were gorgeous in the outside light

I am fondling the merino silk roving (I look terrible in that side light - I should wear frownies all the time!)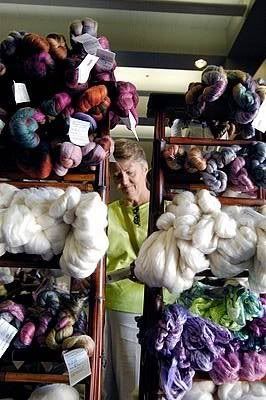 Here I am choosing through the hundreds of batts offered at Nancy's Custom Handweaving Booth, I bought four bags of batts; two purple blends and two yellow blends.

I also bought two hand dyed roving braids of 50% merino/50% tencel from
The Soap Plantation
. I'd never spun this blend before but with help from several spinners in my Spinning Class it's a pleasure to work with. Very well behaved for such long, fly away fiber.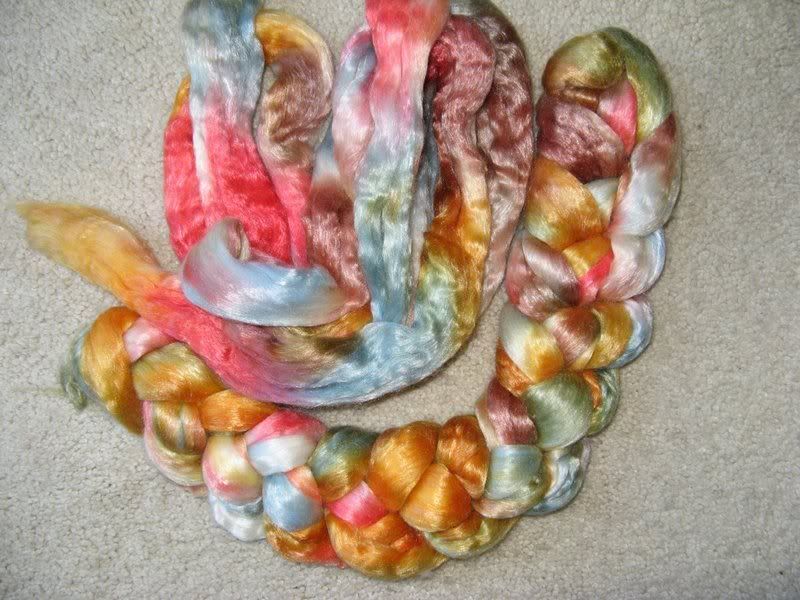 Here's a close up of my singles. Haven't decided if I'll use it as singles or ply it.
thanks to The Photographer for the Show pictures