Wednesday I started my third year of spinning classes. When I started attending these classes my thinking was that I was only there to learn about yarn; how it's made, the differences in fibers and what yarn is good for making certain items. I had no intention of becoming a Spinner and definitely didn't intend to purchase a wheel.

Watching lots of other people spin is mesmerizing! Took four classes, one month, to hook me. One very nice woman lent me a castle type wheel she wasn't using - she had two others at home. (I couldn't imagine owning three spinning wheels!) I practiced and practiced and purchased my own wheel two months later. And I've been spinning ever since.

Not to say I've been turning out quality product, just having fun. Once I could consistently keep the wheel spinning and the fiber twisting I set myself the goal of making a fingering sock yarn at some distant time in the future. We worked on it in class and I kept trying but I never could make a single fine enough or smooth enough. Socks prove that old "Princess and the Pea" thing; as you walk the soles of your feet can feel the smallest bump.

Jumping ahead two years I was given just under two ounces of fine merino that I hand dyed. The fiber dyed so nicely I set out to try spinning very fine singles - one more try at sock yarn. I'm still not sure if it was my skill or the fiber but I was easily spinning consistently fine/thread singles. I Navaho ply it. (That method shows off your color runs and gives you a 3 ply yarn.)

Here's the result - 1.7 ounces/138 yards: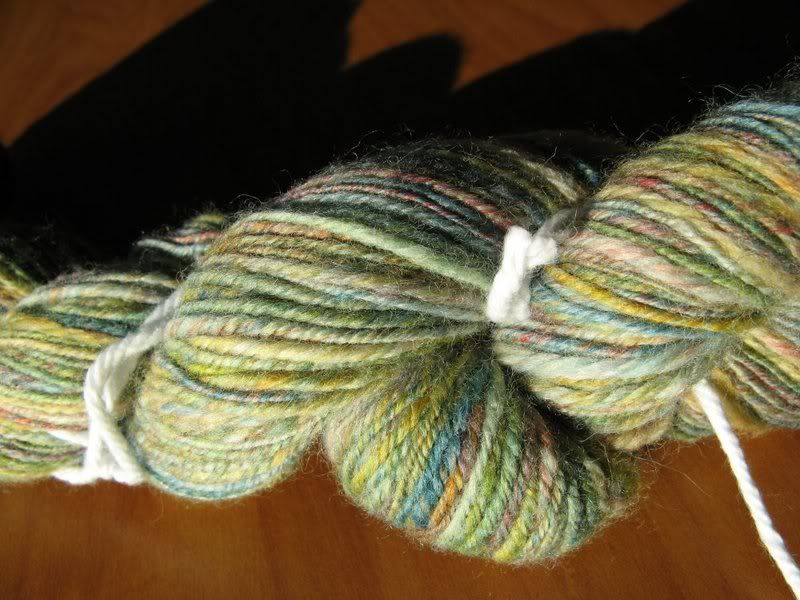 I'm very pleased with the colors too.