It's been a busy week in my neighborhood. I attended TNNA on Monday. My first visit; I found it a great education in the marketing of yarn. There were introductions to yarns I'd never heard of before, fondling of yarn I'd only drooled over in print and on-line plus reunions with old friends that had had color make-overs. My major surprise at TNNA was at the number of Needlepoint Distributors! By square footage it had to be half the show. I found this astounding as here in San Diego of the three needlepoint shops I know of two have converted over to knitting yarn as their major inventory item. Who is doing all this needlepoint?
And I have to mention that next door to TNNA there were over 7,000 Mary Kay representatives attending their own conference. They were all wearing the same all black two piece outfit. It was like watching a swarm of ants; they were everywhere. I felt extremely colorful in my red boiled wool jacket. Many of them were posing in front of the white Mary Kay Cadillacs as I walked by; with all that black and white, my red jacket should be the focal point in all their pictures! They'll wonder, who is that lady in the red; where did she come from?
Tuesday I drove up to Laguna Beach to visit with my cousin that was here from Colorado. We met at the yarn shop in town; after my needlepoint observations from the day before imagine my shock to walk into that Yarn Shop to find the back half of the building was dedicated to (wait for it...) NEEDLEPOINT. While we were in the shop, maybe two and a half hours, there were seven other customers; all were there for yarn. Not one for needlepoint - I rest my case.
My cousin and I get together several times a year when she travels to California; each visit we pick a different Yarn Shop to meet. We visit, we shop and we sit and pull out current projects to share. Imagine my surprise when my cousin pulls out four pairs of the exact same fingerless mittens (see previous posting) I've been making! We hadn't discussed it before hand, although she had emailed me a while back asking if I had ever made any and what pattern I'd used. At that time the only pattern I'd used hadn't worked out well; the palm had been way too narrow.
I had my red ones and another pair made out of Cascade Yarns Baby Alpaca Chunky to show her.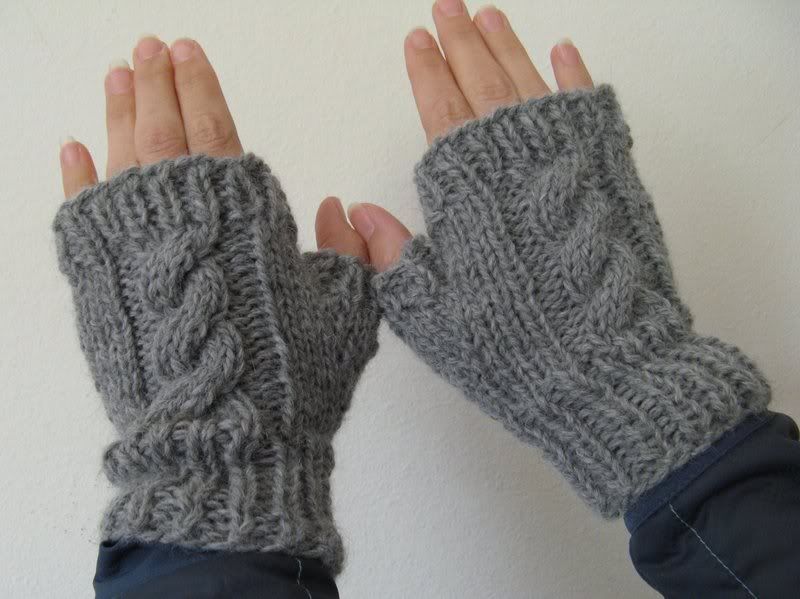 This pair now belongs to oldest Daughter who is modeling them here. (I managed to snap this picture seconds before she left with them. It's been that cold here in lately!)
My cousin and I both bought the same poison green yarn to make another pair. Mine are very nearly done.
I've also finished another dishcloth. This one is Snow White from Harvest Moon Designs.

And I want to show you what I have to go through to keep my small black cat from sleeping on this dishcloth while I was blocking it. I grabbed everything within reach to build this barrier; it worked. Silly Cat!