1/10/07 Ed. Note: For the non-knitters or quilters a UFO is an UnFinished Object.
Out in Blogland it seems that everyone is going on a Yarn Diet or resolving to finish UFOs; as I said I'm not one for formal New Year's resolutions but I thought I could try and finish just one single UFO. I have a Summer Braids sweater that I had to stop working on when I had that nerve problem in my left arm; acupuncture stopped the pain so I've no further excuses from getting back to work on the sweater.

I previously had it up to where you divide for the L & R fronts, sleeves and back. I spent an hour yesterday following the "Set up Armholes" instructions. Nothing unusual there except for the phony side seams (I'd never heard of such a thing. It would have been much easier doing a slipped stitch every third row.) Here's a close up:
Really just time consuming, not difficult. You drop the designated stitch all the way to the bottom of the work, right down to the cast-on. Then using a crochet hook you pick the stitches back up alternating picking up two yarn bars then one bar. It gives you an infinitesimally larger knit stitch than the rest of the work. Really not worth the effort as far as I can see. Maybe once the sweater is blocked you'll be able to see more of the stitch size difference.






And just because I had the camera out here's a picture of the Braid section at the center back.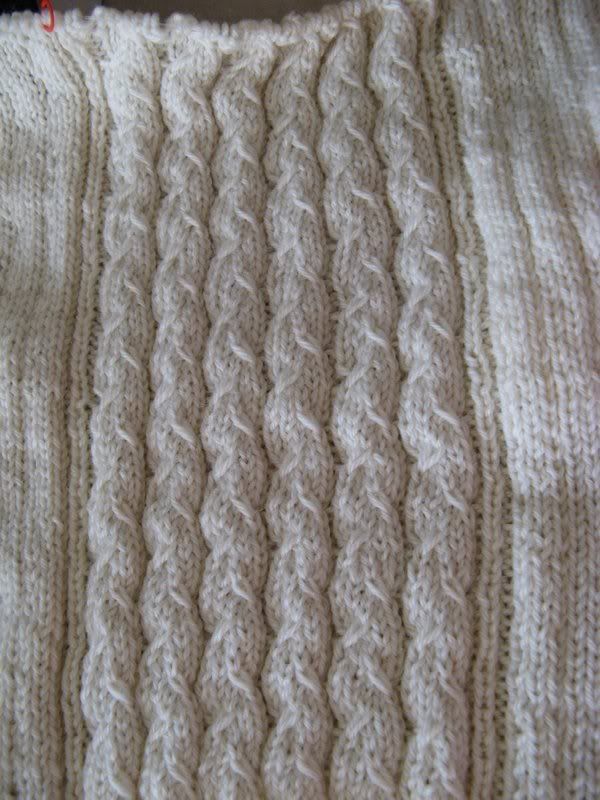 Started the UFO finishing by setting the twist in some of my Handspun. It's been so dry from the Santa Ana weather pattern that it all dried in one day; that's very unusual for where I live.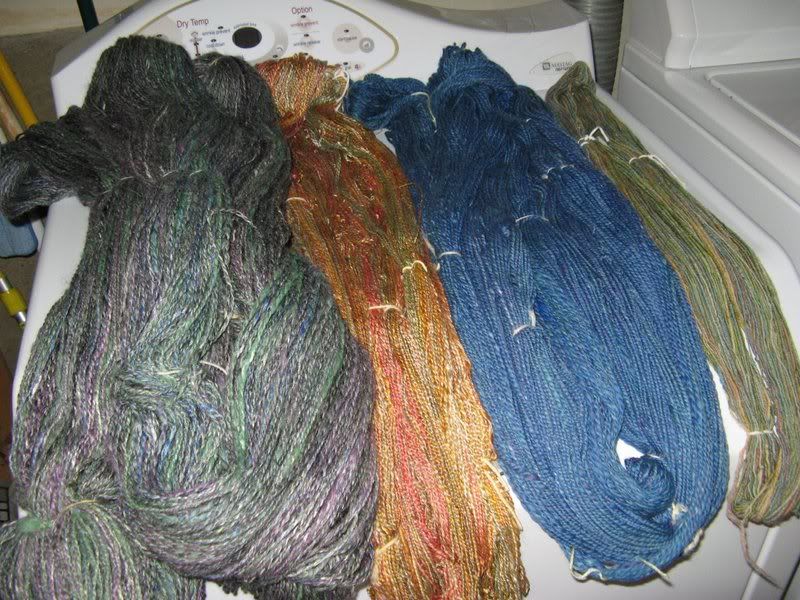 Right to left: green is my sock yarn, Blue is some fiber that I carded with my drum carder early last year a mix of lots of different fibers that I had around, The salmon color is some 50/50 Merino Tencel that I bought at the Torrance Fiber Fest last Fall and what appears to be gray but is really a silver, purple with touches of green is from Crosspatch Creations. A mix of Corriedale Wool, tussah silk, Bombyx silk and rayon. The hardest part, for me, is deciding what to make with my handspun.